Huawei Mate 8 review
http://xpeco.blogspot.com/2016/03/huawei-mate-8-review.html
The Huawei Mate 8 has dropped the Ascend badge, but it offers all the key pros of the Ascend Mate7 and then some. Coming a year after the Mate7, it was only expected that the Mate 8 will show maturity and address its predecessor's shortcomings, most notably the poor graphics performance and the less than stellar camera output.
Huawei's in-house-developed Kirin 950 chipset promises to deliver on the first count, and also brings heaps of CPU oomph. The camera is all-new as well - with a larger, higher-res sensor and phase detection autofocus and optical image stabilization.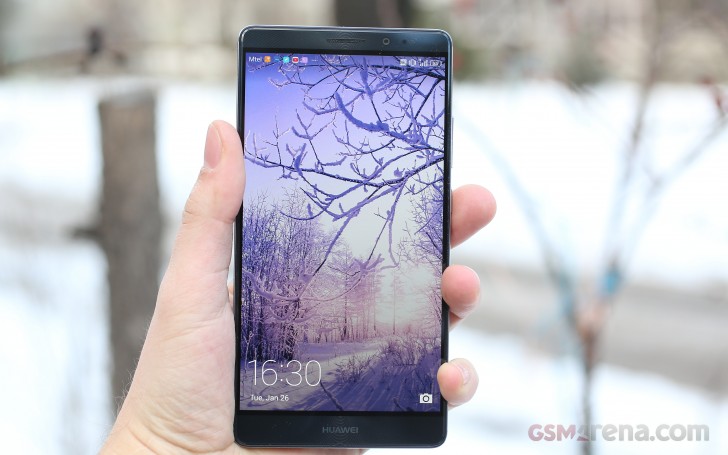 And while the Mate7 was a premium device to begin with, the new iteration looks even more refined. The Mate 8 has an unmatched high-end vibe, thanks to precision-machined metal and glass components, and sharper, bolder edges.
Then again, a few things haven't changed. The display is still 1080p, which was a bit of a stretch for a 2014 flagship and is even more so now when the competition has moved to QHD resolution on even smaller diagonals. Huawei insists that's as many pixels as you need at this size, and the tradeoff in battery life and processing power required isn't worth it. Oh, well.
Other than that, we're glad that the large battery is still in place, the fingerprint reader placement and its always-on implementation are also as nice as ever. And there's little to complain about having a 6-inch display in a body as compact as the Mate's.
Huawei Mate 8 key features
Hybrid DualSIM/microSD card slot (up to 128GB)
Aluminum unibody, diamond-cut beveled edges, sandblasted satin back finish
6" 1080p IPS LCD capacitive touchscreen, 368ppi
HiSilicon Kirin 950 chipset: octa-core CPU (4xCortex-A72 @ 2.3GHz plus 4xCortex-A53 @ 1.8GHz), Mali-T880 MP4 GPU
3GB of RAM/32GB of built-in storage, or 4GB/64GB;
Android 6.0.1 Marshmallow, Huawei EMUI v4.0 overlay;
16MP camera with Sony IMX298 sensor, phase detection autofocus, OIS, f/2.0 aperture; 1080@60fps video recording
8MP front camera, f/2.0 aperture; 1080p video recording; wide selfie
Cat. 6 LTE (300/50Mbps); dual-band Wi-Fi a/b/g/n/ac, Wi-Fi hotspot, Wi-Fi Direct; Bluetooth 4.2 LE; NFC; GPS/A-GPS/GLONASS/Beidou; microUSB
4,000mAh Li-Po battery, fast charging
3.5mm headphone jack, active noise cancelation with a dedicated mic
Main disadvantages
No 4K 2160p video recording
Low-resolution display by flagship phablet standards
Non-removable battery
Hybrid DualSIM/microSD card slot limits options
We were willing to let it slide that the Mate7 couldn't record 4K video, but a year later, it's quite simply unacceptable for a flagship. The 60fps at 1080p resolution is of little consolation when the chipset is clearly plenty powerful to handle 4K video.
The display we already mentioned and the rest are more or less par for the course lately. Flagships with a removable battery are a dying breed, and dedicated microSD slots are steadily making way to the hybrid variety if they are available at all.
But a smartphone is a lot more than the sum of its features (or the lack thereof), and we're not in the habit of relying on the spec sheet alone. We'll be proceeding with the full review on the following pages, with a look at the Mate 8's hardware first on the list.
[next]
Marshmallow with EmotionUI ot top
The Huawei Mate 8 runs on Android 6.0 Marshmallow, skinned with Huawei's own EmotionUI, in its v.4.0 iteration. Skinned might be putting it mildly, though, as the interface has less in common with stock Android than it does with iOS. EmotionUI has been pretty consistent between versions and recurring Huawei users should feel right at home if upgrading to the Mate 8.
There's plenty of stuff going on on the lockscreen, starting with the alternating cover images - every time you wake up the device, you're greeted by a different wallpaper. That's if you opt for the Magazine unlock style. You can also go old-school and pick a single image set to be shown on the lockscreen. Whatever you choose, you likely won't be seeing much of it, as the fingerprint unlock will take you straight to the homescreen.
If you do decide to wake up the Mate 8 via the power button, you get a large clock with a date and a shortcut to the camera. You can also quickly start the camera by a double press of the Volume Down button.
Back to the lockscreen, you can pull up an iOS-style menu from the bottom, where you get yet another camera shortcut, but also quick access to the flashlight, calculator and voice recorder. If you've chosen the magazine style lockscreen, the pull-up menu will give you eight more options for control over the changing covers.
Beyond the lockscreen we find a fairly standard Android homescreen with any number of customizable shortcuts between 0 and 5, which are docked at the bottom and are visible on all homescreens.
There are eighteen (!) homescreen panes at most - we figured they'd be 9 as on the Mate S, but thought we'd double check and started regretting it past the dozen. With the Mate 8 targeted at the power user, Huawei has made sure said user will have enough space for apps and widgets.
Mind you, we're not saying shortcuts, but apps. As is customary for Chinese-made Android UIs, there is no app drawer like there would be on vanilla Android, or on other manufacturer's overlays.
A pinch on the homescreen triggers the familiar Overview mode to let you check out and organize the homescreen panes currently in use, remove or add panes as you please. Widgets are available too - it's mostly the stock Android ones, but Huawei has thrown in some of its own as well. If you like your homescreens neatly organized, you can enable the shake feature, which will arrange scattered apps starting from the top left.
Themes are available as well. A theme will change your homescreen wallpaper, lockscreen style, system and app icons, system font, system color and the sound profile. You can also adjust things like homescreen transition effects. However, for the life of us, we couldn't find a link to an online store of themes, and there are just six pre-installed.
The notification area has two panes - one that holds all notifications sorted in a timeline, and another for all of your quick toggles.
The Huawei Mate 8 features an iOS-like task switcher that lets you swipe up and away unwanted apps. A downward swipe locks the app so that when you hit the Kill all button, it remains open. That's nifty if you are trying to free some RAM for a particular app or game.
For certain scenarios, like in-car use, you can enable a Simple homescreen mode, which features large tiles for easy tapping. It's not particularly consistent, though, offering simple version of some menus, but not others - the dialler is the same size as in regular mode (in all fairness it's fairly oversized to begin with).
A system-wide scale setting is available from within the display options, the Medium option enabled by default. We'd go with Small as the interface could be quite wasteful otherwise, but if you have trouble seeing tiny menu elements, do go for Large, the option is there. Additionally, you can independently set the font size (you'd be surprised to find out that the default is "Normal").
Huawei had granular control over app permissions before it was cool, and there's no reason to change that, now that the feature comes as a part of latest Android Marshmallow.
The Mate 8 features a notification center, from which you can control which apps can send you the three types of available notifications - the shade notifications, the lockscreen notifications and the banner style notifications.
This level of control is also employed when it comes to the app access to network data. The user can control the rights of each application to access either WiFi or mobile data. This can save a lot of traffic and help you optimize your data plan and consumption in an easy and convenient way.
As part of the extensive Smart assistance package, you can customize the bottom navigation bar - you can swap the task-switcher and back keys, or even add a shortcut for the notification area. There is also a one-handed UI mode, for easier menu surfing on the go.
You can enable the so-called Floating dock - it's a virtual key you can move anywhere on the screen, allowing you to expand it to the primary Android keys - Back, Home, Task Switcher, Lock and Close all running apps. It will help you control your phone with just one hand.
Motion control also plays a significant role on the Huawei Mate 8. There are flip gestures, as well as picking up, tilting and even things like knuckle detection and drawing. All of those are extensively customizable to your liking as well.
You can start recording a video of your interaction with the UI by the intuitive double knock with two knuckles while drawing an S with a single knuckle launches the scrolling screenshot. Thank goodness that latter is available from the regular Power/Volume down shortcut. Scrolling screenshots were a bit hit-or-miss, though.
The Mate 8 has a potentially handy, put in practice limited multi-window feature. Launched with a knuckle swipe (or a much more logical press-and-hold on the recent apps button), it lets you view two apps at once. You can resize the windows, and swap the two. The app selection is very limited, though, and is strikingly missing a browser.
Voice control, on the other hand, lets you operate the Mate 8 entirely hands-free. The functionality resembles what we have seen on certain Nexus and Samsung Galaxy devices and boils down to the ability to trigger a voice command, even when the phone is locked, and its screen is off.
Huawei does this by always listening for a "trigger word", which by default is... "Okay, Emy." Once triggered, the phone wakes up and awaits further voice instructions, like placing a call. Speech awareness is also customizable. The wake-up phrase can be changed, and you can also train the device to recognize better your voice.
The list of accessibility features just goes on and on. Others that deserve mentioning include: glove mode, smart cover and smart headset control.
Huawei's fingerprint recognition has long been among the best available, and that's only gotten better on the Mate 8. The sensor is always on, and it will unlock the smartphone and take you to the homescreen in what can be described only as a 'mere instant'.
You can set up to 5 fingerprints, and those are more than likely going to be the index fingers of both hands, and potentially the same for another person, with one to spare, though we've never understood the limitation.
When you go to the fingerprint setup menu and tap the sensor with an already registered digit, it highlights in the list below - a nice touch. In a baffling turn of events, the Mate 8 deleted all fingerprints once we chose to disable the fingerprint unlock, forcing us to do the setup all over again.
Surprisingly, the Mate 8, unlike the Mate S, lacks the truly handy touchpad functionality of the fingerprint sensor. You can only set it up to take photos, answer calls and turn off the alarm, but you can't scroll through the gallery, or pull down the notification shade.
Synthetic benchmarks
The Huawei Mate 8 is powered by the Kirin 950 chipset, made by HiSilicon, a Huawei subsidiary. It's not the first in-house chip the company uses, it's been an ongoing Huawei effort to produce its own SoC's.
Previous iterations include the Kirin 935 in the Mate S and the Kirin 930 in the P8, the two differing in CPU frequency. The Ascend Mate7, on the other hand, had a Kirin 925 inside. For all the numbering differences, the chips have all traditionally had a common issue and that's been GPU performance.
Huawei has made the necessary steps in that department and fitted the Mali-T880 GPU in MP4 configuration. Coupled with the conservative 1080p resolution, the Mate 8 should have no issues on the graphics front.
That's definitely not where all the effort has gone, though. The Kirin 950 chipset comes with a dual quad-core CPU setup, utilizing four of the latest Cortex-A72 cores in its performance cluster and that makes it the first processor with such cores that we get to test. Neither member of the Snapdragon 65x line has shown up on our doorstep just yet, and Mediatek's Helio X20 is yet to make it to a production device.
Additionally, the chip is built on a 16nm production line, as opposed to the 28nm of older generations with the resulting benefits in power efficiency.
One aspect of the Mate8's hardware, which we're no fans of, is the fact that 3GB of RAM are paired with 32GB of storage, and 4GB come with 64GB. If you insist on the larger operating memory, but don't have heaps of multimedia to store, you'd still need to pay for those 64GB. For the record, our review unit is the 32GB variety so it has 3GB RAM.
The Mate 8 stormed through GeekBench, its score miles ahead of anything before it. Our previous champ in the multi-core test, the Meizu Pro 5 with an Exynos 7420 inside, couldn't keep up with the Kirin's powerful A72 cores. The Nexus 6P is among the highest-ranked Snapdragon 810 models, and its score is about two-thirds of the Mate's.
GeekBench 3
Higher is better
The assorted Antutu benchmarks also put the Mate 8 in a leading position. In Antutu 5 it's only slightly ahead of the Meizu Pro 5, but comfortably outpacing the Galaxy Note5. Here, the Snapdragon 810 does best inside the Xperia Z5 Premium, and the Nexus 6P is further down, on par with the iPhone 6s Plus.
In Antutu 6 Huawei's flagship pair scores similarly though the Mate 8 has the upper hand again. The Galaxy Note5 is little behind, but not as much as the Snapdragon 808-powered LG V10. Oddly, in this benchmark, the significantly more powerful chip of the Pro 5 posts an identical result to Qualcomm's second-best of the year.
AnTuTu 5
Higher is better
AnTuTu 6
Higher is better
The Mate 8 surrenders the benchmark lead in Basemark OS II 2.0, another compound benchmark. An inch behind the Nexus 6P, the Mate 8 is outpaced by the iPhone 6s Plus in the overall score. The Exynos-powered Note5 and Pro 5 are still not a match for Huawei's 6-incher.
However, the Mate's processor shows its strength in the CPU-specific parts of the benchmark. Its single-core result is the highest of the bunch, with only the Note5 coming close. There's absolutely no contest in the multi-core test, where the Mate 8 wipes the floor with the current crop of high-end phablets.
Basemark OS 2.0
Higher is better
Basemark OS 2.0 (single-core)
Higher is better
Basemark OS 2.0 (multi-core)
Higher is better
Which brings us to graphics performance. While the Mate 8 is no slouch here either, it's also not in the leading position. Its Basemark X results are only slightly ahead of the LG V10, BlackBerry Priv, and Moto X Style (a.k.a. Pure Edition). Those all come with an S808 chipset, which features a rather modest Adreno 418 GPU.
The Note5's score is some 70% higher though the Pro 5 isn't as convincing. It's the Xperia Z5 Premium that leads the way for S810, with the Nexus 6P behind, but still much better than the Mate.
Basemark X
Higher is better
In GFXBench, the Mate 8 posts some respectable scores, but is again no chart-topper. In the offscreen tests, which are run at a standard 1080p resolution regardless of the specific smartphone's actual display setup, the Mate 8 achieves higher frame rates than the S808 bunch, but not quite on par with the S810 or Exynos 7420.
In the onscreen tests, at actual display resolution, the Mate 8 is favored by the lower number of pixels it needs to render, compared to most of its rivals and climbs up the chart. That doesn't help it against the iPhone 6s Plus, Pro 5 and Xperia Z5 Premium, which run the test in FullHD, too. The Nexus 6P, however, gives the Mate 8 a solid run for its money, despite having a QHD screen - owing to the S810's Adreno 430.
It's probably worth noting that the Mate 8 runs the onscreen tests at a slightly lower 1,740 x 1,080-pixel resolution (1,920 x 1,080 pixels, minus the strip of onscreen buttons). This small difference made for slightly better scores in the Mate's onscreen tests compared to the 1080p ones, but the difference is marginal at best.
GFX 3.0 Manhattan (1080p offscreen)
Higher is better
GFX 3.0 Manhattan (onscreen)
Higher is better
GFX 3.1 Manhattan (1080p offscreen)
Higher is better
GFX 3.1 Manhattan (onscreen)
Higher is better
The bottom line is that the Huawei Mate 8 has tons of raw processing power in both single- and multi-core applications. Its GPU performs adequately (unlike the Mate7 before it), but is not quite up to par with the CPU's performance.
We'd say Huawei made some very well-calculated choices on this one. On the one hand, the Mali-T880 MP4 would have definitely choked with a higher-res screen. However, a QHD display with a GPU to match would have meant a much more serious strain on the battery, and that wasn't a compromise the company was willing to make.
That said, Samsung's Exynos 8890 has a Mali-T880 MP12 GPU with three times as many cores, so the Mate 8 won't have it easy once the Galaxy S7 bunch and the Note 6 come next.
[next]
Great on paper, but troubled 16MP shooter
The Huawei Mate 8 relies on a 16MP primary camera. The sensor is a Type 1/2.8" IMX298, courtesy of Sony, and is capable of phase detection autofocus. It has a 4:3 native aspect ratio and is capable of outputting images up to 4,608 x 3,456 pixels in resolution.
It's paired with a f/2.0 lens. There's optical image stabilization too, and if the two working together still can't cut it, the dual LED flash can help out in the dark. It's also a dual-tone setup allowing it to adapt to the existing light sources in the surroundings.
The interface of the camera app is straightforward if a little scattered. Swiping left or right in the virtual viewfinder lets you switch between still/video, and the all-important Light painting, Beauty and Time-lapse modes.
From the shooting modes you can select HDR, Watermark (also available post-shot from the image editor), Document readjustment (for scanning paper documents), Panorama and Professional, among others.
The Professional mode gives you control over metering, ISO, shutter speed, exposure compensation, focusing mode and white balance, including manual color temperature setting - basically, everything.
For all its fine specs and plenty of features, the Mate 8 doesn't quite deliver in real life. It's not bad, it's just not great, and great is what it should have been.
That said, the update didn't work miracles. The camera outputs noticeably soft images, which lack the detail and texture we've grown accustomed to seeing from high-end smartphones. There also was an awful lot of noise in all but the brightest portions of the images.
Colors are rendered on the conservative side - punchy is not what they are. In broad daylight, the Mate 8 exposes consistently accurately, without variations from shot to shot. Dynamic range is decent, with only a slight tendency to clip the highlights.
The HDR mode on the Mate 8 introduces minor, nearly invisible changes to the shots and as such it's bordering on pointless. It could potentially be addressed in a future update.
At night the Mate 8's output is good if fit-to-screen magnifications are assumed, but pixel peeping does it no favors. Bright light sources are somewhat defined, but everything else is (a lot) less than stellar.
The panorama mode is one of the better implementations on the market, switching automatically between portrait and landscape. When shooting in portrait, panoramic images turn out a bit taller than 3,000 pixels and the sample below is more than 22MP, while being far from an 180-degree sweep. Stitching is good, exposure is even, it's just that the detail isn't there, as with the regular still photos.
Still camera comparison
You can check out how the Huawei Mate 8's primary camera stacks up against the competition in our Photo compare tool. We've chosen a couple of direct rivals, but you can explore the tool and select other devices from the ones we've tested.
Capable 8MP selfie camera
The front camera of the Mate 8 is an 8MP unit shooting images at 3,264 x 2,448 pixels. It's paired with a relatively dim by today's standards f/2.4 lens. There is the obligatory beautification feature, which attempts to mask skin blemishes. A nice feature is a small thumbnail that appears in the upper right corner of the screen once you hit the shutter button, prompting you to look at the camera, and not the center of the display.
The photos taken by the front camera have a good level of detail, little noise, good dynamic range and pleasing colors. There is also a nice-looking background blurring.
Video recording capped at 1080p
One of the major flaws of the Mate 8 is that it doesn't support 2160p video recording, when it has become the de facto standard resolution for high-end smartphone camcorders. A lot of users will live just fine without it, but they shouldn't have to. The smartphone does support 1080p@60fps, so at least, there's that. Additionally, you get a slow motion mode, where video is recorded at 120fps, but the resolution is just 720p.
The 1080p@60fps videos come out with a bit rate of 48Mbps while the 30fps ones are exactly half that. In either case, audio is recorded in stereo at 96kbps.
There isn't much room for praise in the video department either. They lack the detail you'd expect from that resolution and have pretty limited dynamic range. At least, there isn't an annoying focus hunting.
When shooting handheld on the Mate 8, the OIS system does an okay job at compensating for hand shake. That said it's not quite up to par with the best implementations on the market.
[next]
6-inch 1080p display
The Huawei Mate 8's defining feature is its 6-inch display. Arguably, 1080p was already a bit outdated around the time when Mate 7 was unveiled; but the Mate 8's screen comes in this same resolution. Hence, it won't win any pixel density awards, but at 368ppi, it's comfortably above what Apple coined as Retina resolution, and should be less taxing on the battery and processor.
The Huawei Mate 8 uses an IPS-NEO LCD panel by JDI, which delivers deeper blacks. The Huawei P8 was perhaps the first phone we've seen to come with this tech but today, it no longer looks as spectacular as before. Don't get us wrong, it's still noticeably better than any regular IPS LCD.
The maximum brightness level achieved by the screen when displaying white is 471nits, which while not award winning is plenty to go by. The offered contrast ratio is also excellent - 1361:1.
Regarding color reproduction accuracy the Mate 8 screen is less than stellar with an average deviation (DeltaE) of 6.1 a bit higher than what we would ideally like. We've seen worse even in flagship devices, so this one sits somewhere in the middle. For a screen to be considered properly calibrated it needs to have a maximum DeltaE of 4.
Using the built-in Color temperature slider, we managed to get a better color reproduction (Avg. DeltaE 4.4) by going all the way to the Warm setting, but that came at the expense of slightly lower maximum brightness (450nits).
In all cases, the minimum brightness of the screen (10.8) is somewhat too high for comfortable reading in pitch dark if this sort of thing is important to you.
Display test

50% brightness

100% brightness

Black, cd/m

2

White, cd/m

2

Contrast ratio

Black, cd/m

2

White, cd/m

2

Contrast ratio

Huawei Mate 8
0.11
149
1355
0.346
471
1361
Huawei Ascend Mate7
0.11
149
1428
0.37
530
1428
Huawei Mate S
0.00
60
∞
0.00
372
∞
Samsung Galaxy Note5
0.00
183
∞
-
439
∞
Samsung Galaxy Note5 max auto
-
-
-
-
620
-
LG V10
0.07
100
1449
0.29
432
1490
BlackBerry Priv
0.01
184
26286
0.02
377
25133
Huawei Nexus 6P
0.00
180
∞
0.00
352
∞
Oppo R7 Plus
0.00
171
∞
0.00
351
∞
Apple iPhone 6s Plus
0.10
150
1563
0.43
590
1382
Microsoft Lumia 950XL
0.00
115
∞
0.00
335
∞
Microsoft Lumia 950XL (max auto)
-
-
-
0.00
705
∞
The Mate 8's solid performance in our display tests continues into sunlight legibility. A score of 2.949 is a very good achievement for an LCD panel and emphasizes another strong point of the IPS NEO tech.
Sunlight contrast ratio
Connectivity
Regarding connectivity, the Huawei Mate 8 is properly equipped. Huawei is very proud, and rightfully so, of the Kirin 950's built-in radio support, which includes up to five 2G bands, ten 3G bands, and eighteen 4G bands. Our variant (NXT-L29) comes with dual nano-SIM slots, and the second one can only tap into 2G networks while the first gets the full cellular connectivity.
The Mate 8 supports dual-band 2.4/5.0GHz Wi-Fi 802.11a/b/g/n/ac, with Wi-Fi Direct and hotspot capabilities. Bluetooth is v4.2, where interference issues with LTE networks should be fixed.
There's NFC on board, as well as an FM radio. The satellite receiver GPS, GLONASS, and Beidou, so there isn't a corner in the world where the smartphone won't be able to pinpoint your location.
A 3.5mm jack provides standard connectivity for wired headphones. There is no Type-C connector on the Mate 8 - a regular microUSB 2.0 provides charging and PC connectivity capabilities. Mind you, it defaults to charge-only every single time you connect it to a PC, and you have to select manually from the notification shade that you want to do something else. It does support USB OTG (without additional actions, like enabling it in settings), but it didn't work with the MHL adapter we had lying around the office.
Huawei Mate 8 battery life
The Mate 8 has one of the largest capacity batteries for a major manufacturer high-end phablet. At 4,000mAh, it's a tiny 100mAh less than the predecessor but is still a lot more than current rivals. Huawei's own Nexus 6P comes closest at 3,450mAh, the Lumia 950 XL packs 90mAh less, while the Galaxy Note5, LG V10, and Moto X Style make do with 3,000mAh.
While not strictly a flagship, the Oppo R7 Plus matches the Mate 8's diagonal and packs 4,000mAh worth of juice. The Samsung Galaxy A9 (2016) equals the Mate 8 in screen size and battery capacity, while also potentially offering much better performance than Oppo's 6-incher.
So, after that quick (ok, rather lengthy) roundup, let's see how the Mate 8 fares in our battery test.
In a single word - splendidly. The smartphone lasted a comfortable 17 hours running our web browsing script over Wi-Fi and is good for 12 and a half hours of video playback. At nearly 29 hours of 3G voice calls, the Mate 8 leaves little to be desired in any aspect of its endurance. We also like seeing triple-digit overall scores, and there aren't many of those.
We'll just go ahead and mention that the V10, the Nexus 6P, and the Priv die after half the web browsing, time of the Mate 8, and none of the major competitors comes even close in this respect. While well above average, the video playback result of the Mate 8, however, is bested by both the Note 5 and iPhone 6s Plus.
It's also worth noting that the Mate 8 comes bundled with a 9V/2A charger for a theoretical maximum output of 18W. Huawei states that it charges the battery from 0% to 100% in two and a half hours, which is quite remarkable. More importantly, in about an hour the battery reaches a 70% charge, which is great if you're pressed for time. Unfortunately there's no form of inductive charging, which we can rightfully complain about on a smartphone this expensive.