Microsoft Lumia 650 review
http://xpeco.blogspot.com/2016/04/microsoft-lumia-650-review.html
The Lumia 950 and Lumia 950 XL provided the answer to the platform's fans starved for quality hardware and the complete flagship experience. The budget-friendly Lumia 550 that launched alongside didn't get as much attention, but served its purpose just fine - introducing the new Windows 10 to the masses.
Now, everyone will agree this is far from a complete lineup and, a few months later, Microsoft is ready to do something about it. The Lumia 650 is a gorgeous looking phone - we can't think of a better way to start filling the blanks.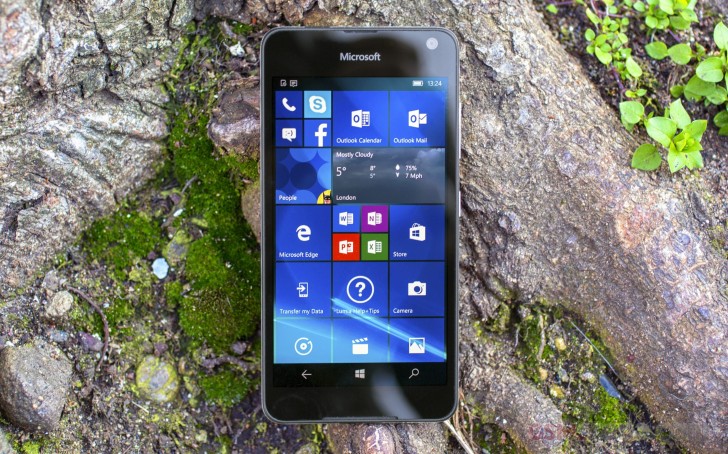 It is amazing how much of a style difference a bit of metal can make. The Lumia 650 looks much more refined than any Lumia device to date (including the Nokia Lumia 830, which too flaunted a metal frame). Actually, we might as well go ahead and say it - the Lumia 650 looks better than its flagship siblings, the Lumia 950 and 950 XL.
So, if all that hotness is available for less than $200, what's the catch? To put it gently, the internals don't quite do justice to the classy exterior.
Key features
Windows 10 Mobile
Aluminum frame around polycarbonate body with an exchangeable back cover
Slim and surprisingly lightweight body
5.0 inch OLED display with 720p resolution and 297ppi
Qualcomm Snapdragon 212 chipset, quad-core 1.3 GHz Cortex-A7, 1GB of RAM
16GB of built-in memory
8 MP, f/2.2, 28mm main camera with a single LED flash
5 MP, f/2.2 front camera capable of 720p video recording
Cat. 4 LTE (150/50Mbps); Wi-Fi b/g/n; Bluetooth 4.1; GPS/GLONASS/BDS; microUSB
2,000mAh battery capacity
Main disadvantages
Entry-level chipset
No 1080p video recording
Rather low battery capacity
No support for Windows 10 Continuum
A punchy AMOLED screen does wonders for the overall impression - it's a Windows phone after all with plenty of black throughout the UI - and that's actually not where the good stuff ends. A solid 16GB of inbuilt storage is good enough to get you started and for everything else, there's a memory card slot. A fairly wide selfie camera is on the plus side as well.
Unfortunately, the product team didn't have much budget left after these had to resort to using entry-level hardware, which has resulted in a rather unbalanced end product. It's not that the raw processing power is not enough - Windows smartphones are known to be quite frugal. But the choice of chipset has limited other aspects of the phone experience - the absence of 1080p video recording is one of them.
Obviously, LTE support was a higher priority than high-res video for the intended markets and demographics. Anyway, the compact and sturdy Lumia 650 will certainly get a lot of attention from budget-conscious users.
We'll have a look at what you will be getting with the Lumia 650 on the following pages. This review is a little shorter than usual but hopefully sharp and to the point.
Hardware overview
There is no denying it, the Lumia 650 is a really gorgeous phone and in a very non-Lumia way, not necessarily appealing to traditional Lumia design fans. It really looks like the 650 isn't exactly related to any other offers in Microsoft's current lineup, like the Lumia 950 or 550. It is rather in a league of its own - slick, slim, light elegant, with just a touch of metal. Rounded corners and sloping edges have given way to a lot straighter and sharper lines and colorful, glossy plastic is nowhere to be found, just a black or white, mat finish all around.
This new push towards a more serious, business exterior seems to be an ongoing Microsoft trend, as it tries to move its lineup, or at least parts of it, away from the youthful approach, but the Lumia 650 really takes it to the next level.
We keep raving about the metal frame and we mean every word of it. It runs all the way along the sides of the device and has a dark steel finish, combined with shining silver edges on the front and back. Even the power and volume buttons on the right side are made of metal.
Of course, it's not all sunshine and roses. The shiny surface of the frame is split at two spots - by the 3.5 audio jack on the top of the unit and the microUSB port on the bottom. These two are surrounded by regular plastic and arean eye-sore.
The Lumia 650 is not only flaunts the metal proudly, but also combines it with a slim profile, measuring only 142 x 70.9 x 6.9 mm. Despite the thin waist line, the Lumia 650 still has a removable back cover that grants access to the 2000mAh battery pack. This is one of the few drawbacks of the design, as it did leave very little room for power cells. The strive for a lightweight body didn't help either, but the results speak for themselves - at 122 g, the Lumia 650 feels almost unnaturally light.
As for build quality and choice of materials, it is a mixed bag. We really can't complain about the plastic either. The front of the device has a really deep piano black or pure white finish that both work great with the OLED display. And as for the back, It is extremely thin and with a soft-touch finish, also quite flexible, but it appears pretty rigid once it's on the phone.
The only real complaint we have with the build quality is the way the back cover attaches to the back of the unit, which leaves a few gaps here and there. But, that just seems like nitpicking, considering the overall excellent picture.
Display
OLED panels are far from a novelty in the Lumia realm, but it is always a welcome sight to see the technology in a budget-friendly handset. With a current asking price of a little over $200, we wouldn't exactly call the Lumia 650 an entry-level device, but it is a solid mid-ranger, which should be its true place in the lineup, considering the Lumia 950 and the Lumia 550 on either side.
Going by this logic, it is great to see that Microsoft has managed to keep the OLED technology from the higher tier and leave it in the Lumia 650, giving it a clear neck up from its lower-end sibling. It also makes sense if we consider the handset the spiritual successor to the Lumia 640. The 5.0-inch panel is nice and bright and also visually quite sharp, despite its 720p resolution.
As for the panel itself, it is decent albeit quite old, as it is of the Pentile variety. Maximum brightness in only average and the minimum white brightness is a little high for our taste. Sunlight legibility, on the other hand, is excellent. Color accuracy on the unit is surprisingly good, as well, so it has that going for it. Contrast, of course, is infinite thanks to the OLED technology, which is able to turn off the black completely.
Display test

100% brightness

Black, cd/m

2

White, cd/m

2

Contrast ratio

Microsoft Lumia 650
0.00
333
∞
Microsoft Lumia 950
0.00
328
∞
Microsoft Lumia 950 (max auto)
0.00
626
∞
Microsoft Lumia 950XL
0.00
335
∞
Microsoft Lumia 950XL (max auto)
0.00
705
∞
Microsoft Lumia 550
0.57
546
963
Microsoft Lumia 640
0.49
508
1034
Nokia Lumia 735
0.00
363
∞
Nokia Lumia 930
0.00
347
∞
Huawei P8lite
0.45
362
802
Samsung Galaxy A3
0.00
470
∞
Xiaomi Redmi Note 3 (MediaTek)
0.42
403
953
ZTE Blade S6
0.46
457
946
Moto G 3rd gen max manual
0.43
430
1009
Moto G 3rd gen max auto
0.53
539
1017
Meizu m2 note
0.42
473
1108
Sunlight contrast ratio
Battery Life
The Microsoft Lumia 650 packs a rather small 2000mAh battery. The Snapdragon 212 SoC, combined with the 720p OLED display both spell power efficiency, but oddly enough, the handset eats through the available charge quite quickly.
It only managed to get an overall endurance rating of 55 hours. This is still better than the 43 hours its Lumia 550 sibling managed to clock in, but sadly also quite a bit less than the 76 hours the Lumia 640 earned last year. However, the latter is understandable, considering the 500mAh difference in battery capacity and the drastically new OS.
The fact is that the higher-end Lumia 950 only scored 48 hours of endurance in out battery tests, despite its 3000mAh battery. The top-of-the-line Lumia 950 XL managed to ramp that up to 62 hours, but only through the use of an even bigger 3340mAh pack.
So we are inclined to point a finger at Windows 10. While ambitious, Microsoft's latest cross-platform OS effort is still far from optimized or stable. Don't get us wrong, it shows great promise and has really taken usability and the UX to a whole new level, which we will touch upon in the following section. However, despite the fact that the OS is now rolling out officially to all supported handsets, problems are still plentiful - especially from stability point of view.
We found ourselves having to restart the Lumia 650 on several occasions as it had frozen quite badly. On one occasion, we even had to go so far as the remove the battery, which, frankly, isn't really acceptable on a mature mobile platform in 2016. All this considered, it is no wonder that battery usage is less than ideal, but hopefully, future optimization will patch most things up, in the otherwise very impressive Windows 10.
Windows 10 Mobile
The Lumia 650 is one of the select few devices (only the fourth, to be exact) to come with Windows 10 Mobile out of the box. As of writing this article, Microsoft has officially rolled out the platform to older eligible devices as well, but it is this fresh new batch of devices that is designed to push it forward and, like we already said, the Lumia 650 has a very important place in the new lineup, between the high-end 950 family and the entry-level 550.
Frankly, however, the Lumia 650 is much closer to the latter and offers only a minor improvement in performance, while still sadly skipping on advanced features like Continuum and Hello iris recognition.
And this is the main dissonance that plagues the phone - it strives for a slicker new design with improved elegance and appeal, but definitely leaves you wanting on the performance side. We can't shake the feeling that the Lumia 650 is settling for the underachiever role, but still, it is not all bad and by Windows mobile standards, it offers a decent set of specs indeed. Plus, it will hopefully be a stepping stone for a future family of elegant Microsoft devices.
Keeping the above point in mind, on a software level, the Lumia 650 is almost, if not entirely identical to the Lumia 550. Windows 10 builds upon the established principles of Windows Phone 8, but comes with an entirely new OS core, very similar to the one inside the full-blown desktop Windows 10 and the Xbox One's Windows 10. Without going into too much detail, here are a few highlights form the OS.
The first thing you notice on the phone is the Glance Screen. It displays a monochrome clock, the date and number of missed notifications and content from apps like Facebook and makes quite a lot of sense on the devices OLED display. You can opt for night mode (warmer colors), display intervals or always on. Sadly, as already mentioned, there is no Windows Hello feature for face recognition unlocking, like on the Lumia 950 and 950 XL.
The main interface consists of only two screens. The first is reserved for the signature live tiles launcher and in Windows 10 it comes with a lot of customization options. You can change the color there of the whole interface (while opting to exclude the navigation bar), you can also rearrange everything, change transparency level and even switch between two types of wallpapers - one that sits behind the icons and the other spanning across them. This can actually radically change the feel.
As for the second screen, it is an alphabetized list of all your apps with a convenient search bar.
As usual, the Action Center is your place for four customizable toggles and all notifications in Windows. It sits a swipe from the top away and works as it does on Android, for instance.
The recent apps menu is accessed by holding down the Back key under the screen. Here you can swipe necessary apps away and kill them, unless they have a background service, like Navigation, Cortana and Battery. There is also a convenient one-handed operation mode.
Having Microsoft's OS on your mobile also, naturally, gives you access to many of the company's signature applications, like the mobile office suite, including Word, Excel, PowerPoint and OneNote.
Cortana is another neat feature to have. It does what Apple's Siri and Google Now do - it recognizes your voice commands and questions in natural human language and gives you spoken replies and feedback. It shows a very nice summary of your day upon launch (the weather, events and meeting, important news, sports scores), based on your location, search history and predefined interests (in your Notebook, which you can edit any time).
Overall, Windows 10 Mobile is an excellent match with the Lumia 550, although stability issues are still very much a thing. The Snapdragon 210, isn't the best chipset to make the experience of the new OS as smooth as it should be, either. Follow along in the next section for more info on performance.
Performance
Let's consider the positive first. The Lumia 650 is equipped with a pretty nice OLED display. The 720p resolution might not sound like much, but, as already mentioned, it is quite sufficient and overall, the display is a perfect fit for the device. Sadly, the same can't really be said about the Snapdragon 212 SoC. We really don't think it does justice to the gorgeous exterior of the device or to its price tag either.
The lower-end specs sheet of the Lumia 650 is somewhat of a letdown, but, as usual, it all depends on what you expect from the device and whether or not you are judging it by Lumia standards.
That being said, we have no doubt that the handset will meet the communication needs of many of its prospective buyers, but performance really isn't its strong suit. The still unpolished and lacking in stability Windows 10 build, currently running on the device doesn't help in this respect either. We barely managed to run a few synthetic benchmarks on the phone and had many problems throughout. Basemark X, for instance, crashed on launch, while Basemark OS II had a GUI issues that didn't allow us past the terms and conditions screen, so, you can definitely understand our problems with the current state of the OS.
Still, we did get through AnTuTu to see how the four 1.3 GHz Cortex-A7 chips inside the Snapdragon 212 fared with some raw computations, among other things. Long story short, it is not a pretty sight.
AnTuTu 5
Higher is better
For graphics, we ran GFXBench. Typically, having a 720p display helps a device greatly in frame rates when rendering on-screen, but in the case of the Adreno 304 GPU inside the Lumia 650, it barely made a difference. Also, the only test the device managed to complete was the GFX 2.7 one, which is quickly becoming deprecated now that we are talking about things like Open GL ES 3.1 and Vulkan on mobile.
GFX 2.7 T-Rex (1080p offscreen)
Higher is better
GFX 2.7 T-Rex (onscreen)
Higher is better
We also gave it our best to test the web browsing capabilities of Microsoft Edge on the Lumia 650. While it opens up pages fine and handles things like pinch zooming and orientation changes with ease, it didn't exactly play well with Browsermark and only managed to run the Kraken 1.1 benchmark. Keeping this in mind, it seems not all current web technology works in the native browser.
Kraken 1.1
Lower is better
Our numbers on performance all look pretty gloomy, but there is one other observation we feel obliged to make. Windows 10 might still have some rough edges to tend to, but there is no denying that it is optimized to work on lower-end hardware and its excels at that. Navigating through the GUI, using non-graphic intensive apps and doing other things like orientation switching or pinch zooming and panning all seems to work just as smooth on the Lumia 650 as it does on the Lumia 950.
For a moment we even suspected that the latter is somehow artificially delayed in its animations and gesture speeds for the sake of continuity in the experience. Whatever the case may be, Windows 10 really seems to feel comfy on the limited hardware at hand and arguably utilizes the limited hardware resources a lot better than any current Android build we've seen.
Microsoft however definitely has a lot of bugs to fix on the Lumia 650 as the retail unit we got for review crashed or simply froze many times a day without any specific reason and without a particular pattern in its use. Performance is one thing and system stability is another thing entirely. And while we may give a mid-ranger the benefit of a doubt when it comes to speediness, we are not so willing to put up with hangs and screen freezing, which cause the device to become unresponsive.
Camera
The Lumia 650 is equipped with a pretty basic 8MP, f/2.2 camera, you know, considering you get double-digit front facing imagers on other phones these days. Surprisingly, though, the little Windows 10 handset did quite nicely in all of our camera tests.
On the software side of things, Windows 10 Mobile makes quite a difference. The camera interface is clean, but actually full of controls and fine-tuning options. If you are into filters or advanced features, such as OCR translation, you can check out the surprisingly rich online selection of what Microsoft dubs lenses. These are a drop-in solutions for almost any advanced camera feature you might crave for and, surprisingly enough, they tend to work quite well despite the handset's limited resources.
Although the resolution maxes out at 8MP, the Lumia 650 allows full manual controls if the default "Rich capture" auto mode comes out as too limiting in any way. You can easily set manual ISO, Exposure, focus range, white balance, to name a few. There is no way of adjusting the still resolution, only the aspect ratio, 4:3 producing the highest pixel count available (3264 x 2448 pixels). Video resolution can be adjusted directly, but sadly, the Lumia 650 can only go up to 720p. Last, but definitely not least, there is a Living images option that works nicely out of the box.
There is little to complain about as regards the Windows 10 camera experience, but we do feel obliged to mention that shooting with Rich Capture enabled sometime results in long saving times. They are quite inconsistent as well, so it is probably not a storage speed bottleneck, but rather the app hangs. But we had a similar experience on the Lumia 950 as well.
As for quality, the 8MP sensor is definitely outgunned by today's standards, but a camera is just as dependent on software, as it is on hardware. Manufacturers like Apple or HTC have proven time and time again that a lot can be achieved even with a rather low resolution cap. The Lumia 650 produced surprisingly good images during our tests, considering its limitations.
Photos came out with nice colors and adequate contrast. Edge-to-edge sharpness is far from ideal, but not terrible either. As for resolved detail, you can't really demand any magic tricks form the 8MP shooter, but Microsoft looks to have squeezed the most out of it.
Below are a few samples in pairs, shot first in Pro mode and then with Rich capture enabled.
You can take a look at how the Microsoft Lumia 650 stacks up against the competition in our Photo Compare Tool.
The 5MP selfie shooter on the Lumia 650 isn't all that impressive on paper but it still managed to produce some really decent shots.
Video capture has its own dedicated interface, which means separate options and a proper viewfinder. Better yet, even in video capture mode you still get quite a bit of manual control, like focus and white balance.
As for video quality, it is nothing spectacular, but still quite alright, considering the hardware at hand. This is yet another instance in which the Lumia 650 suffers from its lower-end specs sheet, as evident by the 720p at 30fps video cap. Here is a YouTube sample for you.
Conclusion
In its second generation since going solo, the Microsoft lineup is keeping up the ambition and drive. It's obviously the flagship that sets the tone but the lower ranks do have a purpose in the greater scheme as well. Especially when you consider that Microsoft intends to have a lot fewer devices in its portfolio this time around.
The Microsoft Lumia 650 flaunts a new metal outfit and an OLED screen that easily puts more expensive phones to shame. True, it's not too powerful but it can live within its own means and even offer some nice perks to the right users.
To be fair, a Snapdragon 212 didn't sound even remotely exciting - it still doesn't - but let's face it, it's only a notch above entry-level and the price is about right. If you consider the Lumia 550 the starter package, the Lumia 650 builds on it with a bigger AMOLED screen, double the built-in storage and a higher-res selfie camera.
Compared to the direct predecessor, the Lumia 640, you get an AMOLED screen, double the storage and vastly superior looks. The 1080p videos get traded for better selfies, which many may consider a bargain. Only the battery capacity gets axed but, at the very least, it looks like an acceptable upgrade.
At around $200, the Lumia 650 obviously cannot offer the fully-converged Windows 10 experience but if the redesign can be a reference, many people must be looking forward to Microsoft's next steps. How about a metal-clad 7xx phone with a Snapdragon 617 SoC and 2GB of RAM capable of running Continuum? Or if that's too much to ask, then perhaps at least one of those PureView imagers? Technically, a phone like the Lumia 650 should not get us carried away like that. But... there you go.