AMD announces RX 480, first graphics card based on Polaris architecture
http://xpeco.blogspot.com/2016/06/amd-announces-rx-480-first-graphics.html
AMD has announced its new RX series of graphics cards, based on their brand new Polaris macro-architecture, and the first card to be released is the RX 480.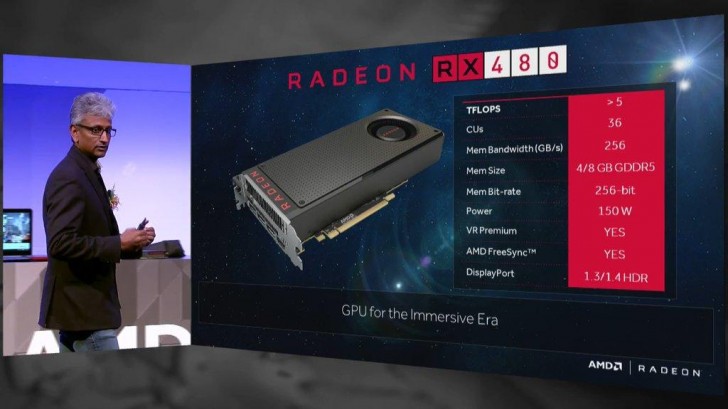 The biggest talking point here is the price, which is $199 for the 4GB model. This is part of AMD's big push for VR where they are trying to get more people to experience VR by bringing down the price of PC hardware. The RX 480 is being touted as the cheapest VR-ready graphics card out there right now. Even if you're not into VR, what it means is that you can still get excellent 1080p performance out of this card for that price.
The RX 480 is the first graphics card by the company based on the 14nm FinFET process and 4th generation GCN microarchitecture. It will have 36 compute units and 5 GFLOPS of performance. The base model will have 4GB GDDR5 VRAM and there will also be 8GB variants, with 256GB/s memory bandwidth and 256-bit memory bit-rate. There is also one HDMI 2.0a port and three DisplayPort 1.3 connectors with FreeSync support. The TDP of the card is 150W and it uses a single six-pin power connector.
More information on availability will be revealed later this month.
Source