Asus Zenfone Max review
http://xpeco.blogspot.com/2016/06/asus-zenfone-max-review.html
It may not be the fastest ride - and it sure ain't the hottest - but it comes with a full tank and mileage to spare. 5,000 milliamp-hours... That's more juice than many tablets get and enough to charge 3 iPhone 6's. The Asus Zenfone Max is no joke when it gets to battery backup. But it's a smartphone in its own right - an affordable midranger at that.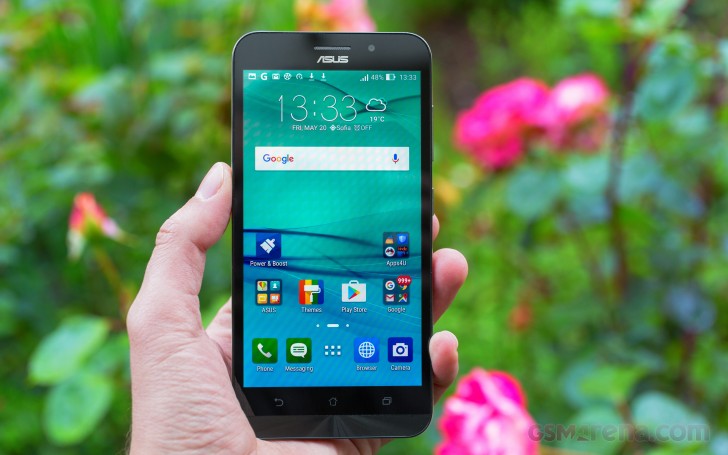 It has a 5.5-inch display with Gorilla Glass 4, and although the resolution is rather low at 720p, we can see how 1080p would have cost more and required more processing power - neither of which fits with the Max's main purpose: endurance.
The Snapdragon 410 doing the math is by no means a record breaker, but a decent chipset that carries dual-SIM support, LTE and 1080p video recording. With 2GB of RAM and 16GB of expandable inbuilt storage, the Max has the basics covered.
On the other hand, the 13MP laser autofocus camera from the Zenfone Laser and Zenfone Selfie didn't fall victim to budget and longevity constraints. On the front there's a 5MP wide-angle shooter, bright aperture too.
Asus Zenfone Max key features
Dual-SIM, Dual Standby capability
5.5-inch IPS capacitive touchscreen of 720p resolution and 267ppi, Gorilla Glass 4
Qualcomm Snapdragon 410 chipset; quad-core 1.2 GHz Cortex-A53; Adreno 306 GPU
2GB of RAM, 8/16GB of storage and a microSD slot for further expansion, 5GB free lifetime ASUS WebStorage
13MP main camera with f/2.0 lens, laser autofocus, dual-LED dual-tone flash, 1080p@30fps video recording
5MP front camera with 85-degree wide-angle f/2.0 lens, 1080p@30fps video recording
Android 5.0 Lollipop with Asus ZenUI overlay
LTE Cat.4, Wi-Fi 802.11 b/g/n; Bluetooth v4.0; GPS, GLONASS, and Beidou; microUSB 2.0 port, USB host
5,000mAh non-removable battery
Plastic build, faux leather back covers
Main disadvantages
Weak 1A charger in the box
Launches on Lollipop
Rather low resolution for the screen size
Battery is non-removable
Perhaps the non-removable battery complaint is shaky when you simply have so much of it. Well, the plain 1A charger does become an issue then, even more so considering the chipset does support Qualcomm Quick Charge 2.0 but hey, the phone comes quite reasonably priced and an extra quick charger won't break the bank.
We know you want the battery numbers, but there's an established order here, and no Max is going to break it. Unboxing and the hardware overview follow on the next page, but our battery test is right around the corner.
Very good 5.5-inch IPS panel with 720p resolution
The Asus Zenfone Max has a 5.5-inch 720p display. If you're at all familiar with Asus's naming convention, you could have extracted that info from the model name ZC550KL - the 55 in 550 means 5.5 inches, while the zero stands for HD resolution. FullHD resolution would have been 551, but there aren't Max versions with such, only Zenfone 2's and the Zenfone Selfie.
Anyway, the numbers make up for a pixel density of 267ppi, and you can tell pixels are larger than recent trends by looking at our microscope shot. It also reveals a standard RGB pixel arrangement with equal numbers of the three base color subpixels.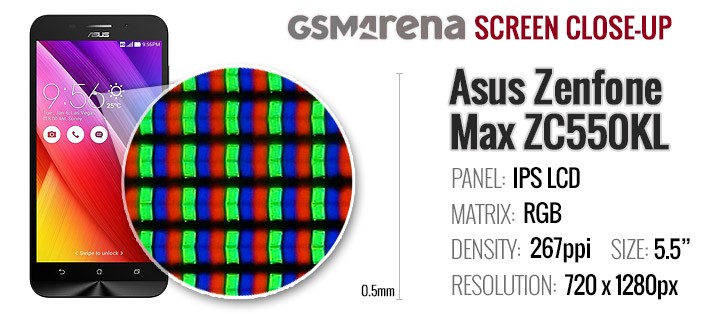 The screen is covered in Gorilla Glass 4 for scratch and shatter resistance.
In terms of maximum brightness, the smartphone does a great job. Its output is dependent on which one of the Battery saver modes is selected, and the maximum available brightness setting is higher in Performance mode, than say, in Normal.
That said, the Auto toggle will produce an equal result in bright sunlight regardless of power mode, also brighter than what you could achieve manually. It can go even brighter than the Moto X Play, which was already an excellent performer.
The screen's contrast remains unaffected by screen modes, and at a very good level around 1100:1. While that's no match for the Moto X Play, which can go as high 1520:1 thanks to its deep blacks, the Max's display outperforms most of the competition in this respect.
Display test

100% brightness

Black, cd/m

2

White, cd/m

2

Contrast ratio

Asus Zenfone Max normal power plan
0.40
433
1093
Asus Zenfone Max performance power plan
0.49
538
1091
Asus Zenfone Max auto brightness on both plans
0.61
668
1093
Asus Zenfone 2 ZE551ML
0.44
390
879
Asus Zenfone Selfie
0.36
333
928
Xiaomi Redmi Note 3 (MediaTek)
0.42
403
953
Lenovo Vibe K4 Note
0.47
442
940
Samsung Galaxy J7
0
358
∞
Samsung Galaxy J7 outdoor
0
500
∞
Motorola Moto X Play
0.41
620
1520
Huawei Honor 5X
0.44
473
1073
Meizu m3 note
0.52
425
816
Color reproduction is one area Asus gives you plenty of control. Tinkering with the sliders in the Splendid app lets you adjust color temperature, hue and saturation and also gives you the option to filter out the blue tones light, if you consider it to be an issue in the hours prior to bedtime.
Alternatively, you can leave it in the default Balanced mode, where you get a pretty good color reproduction with an average deltaE of 4.2, not properly calibrated, but also more accurate than the flagship LG G5's 5.6, for instance. Even the maximum deviation is 6.8, which is quite constrained given that we often see numbers above 10.
The standard DeltaE 2000 deviation is used to describe the accuracy of the screen's color rendering. We test the screen with a set of over 100 different color and grayscale patterns to determine the accuracy of the color reproduction.
Even when a phone's screen color reproduction is off, you would still have a hard time noticing a color cast without a reference as the human eye is quite quick to adjust and normalize colors.
Also, the display colors are a matter of personal taste and perception so consider this test data only if you are concerned about presenting color-critical content on the mobile screen.
Any deviation in DeltaE 2000 of above 10 is considered a visible error in color reproduction on the display. A DeltaE 2000 deviation between 4 and 10 is considered okay or acceptable color performance. A DeltaE 2000 deviation below 4 is considered good, but professional color calibration requires a deviation between 1 and 2.
Things aren't so great in bright outdoor light, where the Zenfone Max struggles, despite the high maximum brightness - quite possibly due to the reflective screen. Even so, it's markedly better than the Zenfone Selfie and on par with the Zenfone 2 ZE551ML.
Sunlight contrast ratio
Connectivity
The Zenfone Max is a Dual SIM device with the full range of 2G/3G/4G bands supported on both cards. LTE is Cat.4 with theoretical speeds of up to 150Mbps down and 50Mbps up.
There is Wi-Fi 802.11 b/g/n, single-band, no Wi-Fi ac but, on a positive note, there's Wi-Fi Direct and hotspot support.
Bluetooth is in its 4.0 version, there's a GPS receiver with added GLONASS and Beidou support.
An FM radio receiver is provided too, but the Max lacks NFC.
The microUSB port comes with USB host support for attaching your choice of peripherals. You can also use the Max to charge other devices with the bundled USB OTG adapter. There's a standard 3.5mm jack too.
There's also a dedicated microSD card slot for storage expansion, which takes cards of up to 64GB.
Asus Zenfone Max battery life
The Zenfone Max's claim to fame is the battery, a 5,000mAh lithium polymer unit, sealed inside. It's one of the largest cells available in a phablet from a major brand, with most offerings hovering around the 4,000mAh mark. Coupled with the modest Snapdragon 410 chipset, it's a recipe for excellent endurance.
Indeed, that's what the Zenfone Max delivers. Some 20+ hours of web browsing, close to 16 hours of video playback and almost 28 hours of voice calls are all great numbers. That adds up to an endurance rating of 121 hours in our proprietary test - meaning second spot in our all-time chart. The leader is the
Gionee Marathon M5
, which has a 6,020 milliamp-hour battery and pretty similar specs.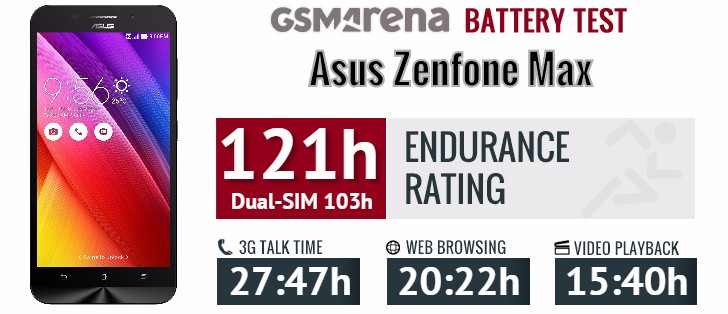 Android 5.0.2 with ZenUI on top
The Zenfone Max comes with Android 5.0 out of the box, which certainly is not the latest available version but Asus is usually good in updating its phones down the line.
Google's OS has been the object of a total makeover by Asus, and the overlay is called ZenUI. It's not merely a skin too - instead, the company has added a host of proprietary apps and features.
Double tap to wake is enabled by default and sending the phone back to sleep can be done by double-tapping on an empty area of the interface. If you're running a full-screen app, double-tapping on the notification bar will do the trick. You could disable the feature in settings and use the power button located conveniently on the right side (unlike other Zenfones which have top-mounted power buttons.)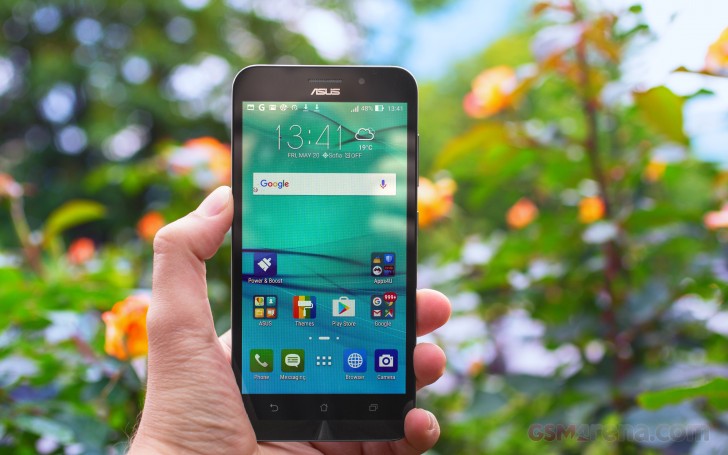 The lockscreen will be familiar to any previous Asus user. You're greeted by a time and weather widget, but also three shortcuts to the camera, dialer and messaging apps. They are customizable too, and you can assign any installed app of your choice to either of the three slots.
The list of notifications follows and, unlike some other Lollipop builds, double tapping on one takes you straight to the app that pushed it. Unlocking only works with an upwards swipe.
Beyond the lockscreen is the Android homescreen with four customizable shortcuts docked at the bottom, the app drawer shortcut always in the middle. You cannot add more icons beyond these four, but there is folder support. Removing one does not rearrange the others, leaving an odd empty space.
There are preloaded Asus and Google folders, packed to the brim with a selection of applications from the respective companies - custom Asus apps in one, and the default Google apps in the other. When you install a new app, the phone will suggest a folder for its placement, aiming to keep things nicely organized.
A pinch zoom lets you rearrange your homescreens, as well as select a default homescreen and add additional ones up to seven in total.
Holding your finger on a homescreen brings a popup menu. It gives access to icon packs (of which there's only one on board, but the Play Store has plenty), scroll effects and wallpapers. You can even set icon and text size!
Additionally, it provides another way to get to the app drawer and settings menu.
There's a theming engine with plenty of free themes available online, if you want to abandon the default cartoonish Asus theme, or go for an even more colorful one.
The app drawer has plenty of customization options itself. Grid size can be adjusted in the 3x3 to 5x5 range, with the latter making more sense on the 5.5-inch screen. Apps can be arranged alphabetically (the "All" setting), manually, or by frequent use, and you can also choose to only display the ones you downloaded yourself. Alternatively, you can have the Max group apps into folders according to their use.
The notification area has seen extensive customization as well. A single-finger pull-down only brings up the notifications and no quick toggles. Side swiping removes the notifications and a "clear" button does away with all of them at once. A second swipe from just below the date reveals the toggles, and whatever notifications you have left get squished to the little space underneath.
A two finger pull-down gets you straight to this state, which features a brightness slider with an auto mode, a 4-in-a-row set of quick tools and a 3x4 grid of toggles. Both the quick tools and the toggles can be chosen and rearranged, but you need to have exactly 4 tools and at least 8 toggles lined up.
The task switcher is the standard Lollipop style virtual rolodex, but with a twist. In-between the typical "Close all" button and shortcut to the Apps section of the Settings menu, you get an App Pin option. What that does is it allows you to keep the selected app in view regardless of any taps on the capacitive buttons. It's a convenient feature and might be used for locking a child into a certain app or game as it's a bit fiddly to get out of (it requires a press-and-hold on the back and task switcher buttons simultaneously.)
Quick trigger is Asus' answer to the problem of handling large devices single-handedly. It's evoked with a double-tap on the home button, provided you've enabled it first in settings. What it does is it shrinks the entire interface to a portion of the screen, which is resizable and can be moved around to suit left or right handed use.
With the touchscreen always-on for the double-tap-to-wake feature, Asus was able to implement a few other nifty shortcuts. For example, drawing the letter "C" on the screen while it's sleeping will wake the phone and straight up launch the camera app. "W" launches the browser and presumably stands for Web. While the letters are preset and you get six of them, you can assign any app of your choice to any letter.
Synthetic benchmarks
Inside the Zenfone Max the Snapdragon 410 hums - another in a line of endurance-focused decisions on Asus' part. The SoC relies on a quad-core Cortex-A53 CPU, clocked at 1.2GHz, and the Adreno 306 GPU. There are 2GB of RAM on board.
Mind you, there's a recently released version of this generation Zenfone Max, the ZC550KL-6A076IN, limited to the Indian market. That one features a more powerful Snapdragon 615 chip and 3GB of RAM in some variants, so it should score markedly better in benchmarks than our Snapdragon 410 version (check the Zenfone Selfie results for reference). It'll also likely show shorter battery endurance numbers.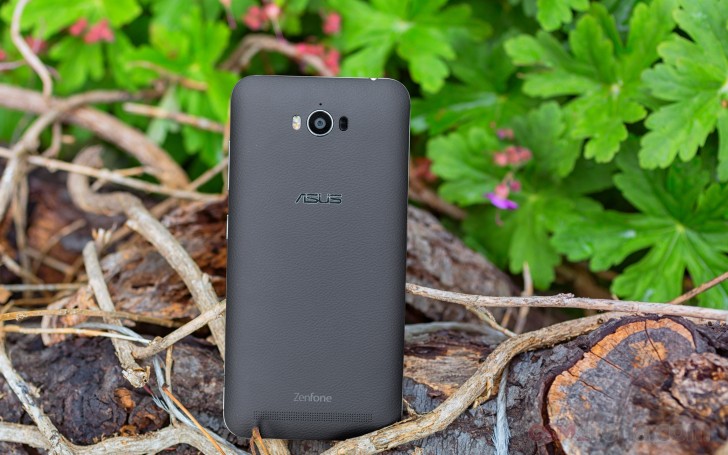 Anyway, the Snapdragon 410 is a modest performer, there's no two ways about it, and benchmarks are certainly not its forte. That shows quickly in GeekBench, where the Zenfone Max scores in the fifteen hundreds in multi-core. The Snapdragon 615's in the Selfie and the X Play and the Mediatek MT6753 in the Vibe K4 Note are capable of about 70% higher scores, while the Helio X10-powered Redmi Note 3 scores three times as much as the Zenfone Max. That said, Asus' marathon runner is still a bit more powerful than all three of Samsung's offerings with the same chip inside, so at least there's that.
GeekBench 3 (multi-core)
Higher is better
In single-core the picture is very much the same - the Max posts rather low scores, and yet it's marginally ahead of the Galaxy J5 (2016) with the same chipset.
GeekBench 3 (single-core)
Higher is better
In Antutu 6 the Zenfone Max scores in the mid-20,000s, a value we hadn't seen for a while before the Galaxy J5 (2016) and the Zenfone Max came in for review. That said, the Galaxy's score is still a few percent higher in this benchmark, for a change.
AnTuTu 6
Higher is better
In Basemark II 2.0 it's more of the same - the Zenfone Max and its Snapdragon 410 are no match for higher-grade Snapdragons and Mediatek's alike. And yet, among its S410 peers, the Zenfone Max scores the highest.
Basemark OS 2.0
Higher is better
In the graphics department the Zenfone Max is underpowered as well. In Basemark X the roles are reversed and Samsung's S410-powered models are ahead of the Max, with the J5 (2016) a notable upgrade over last year's model.
Basemark X
Higher is better
In GFXBench the Zenfone Max manages a mediocre 1.8fps in the offscreen 3.0 Manhattan test, which jumps to 3.9fps in the onscreen version of the test carried out at the phone's native 720p resolution.
While these scores won't win any prizes, it has got to be said that the Snapdragon 410 delivers quite playable game framerates even if it doesn't allow the games to run at their highest graphics quality.
GFX 3.0 Manhattan (1080p offscreen)
Higher is better
GFX 3.0 Manhattan (onscreen)
Higher is better
Overall, the Asus Zenfone Max will deliver decent everday performance. We did observe the occasional stutter, but not to the point of it being an issue.